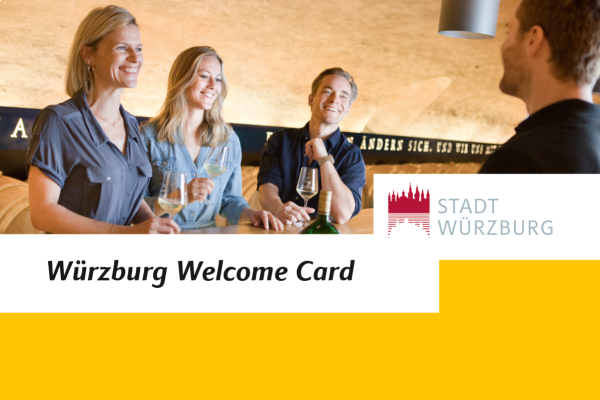 Würzburg Welcome Card is a benefit card for guests and offers various discounts. Experience and discover Würzburg with its many cultural highlights at a particularly reasonable price. A tour of the old town, a visit to the residence and a visit to the museum: the investment has already paid off.
For just €3,00 get a discount on numerous attractions in Würzburg (e.g. €2,00 discount on the Guided Walking Tour of the old town).
The Würzburg Welcome Card is valid for three days.
The card is available at the Tourist Information & Ticket Service during opening hours.
For postage, the order deadline is 7 days in advance. Please remember to set postage to "1" when ordering.
Further information
The Würzburg Welcome Card enables you to conveniently explore Würzburg and its cultural highlights.
Use your Würzburg Welcome Card for discounts at 30 cultural attractions and restaurants.Please note that the availability of certain offers may currently be limited (e.g. reduced opening hours and/or government restrictions). For more information click on the respective offer to access the website of the supplier.
For just € 3,00 enjoy the following discounts: